SecurE the Future
WIth a will
You can save your loved ones a great deal of time, stress, and money by directing who will receive your assets when you pass away. Writing your last will and testament saves your assets from NC intestacy laws that divide your property among relatives in unusual ways.
Don't let your assets cause conflict for your loved ones. Instead, contact us to write your last will and testament so you can rest easy knowing the future is secure. 
Set the stage for your

family's
future benefit by making your will today.
Your last will and testament is a legal document that directs how your belongings are distributed after you pass away. You might think that a last will and testament is only for families with millions of dollars in assets, but this is a grave misconception.
You, like the majority of Americans, probably have a bank account, a house, a vehicle, or all of the above. If you are in possession of any amount of real estate or personal property, you should consider what would happen to those assets if you were gone.
Without a plan, the local court and state intestacy laws determine what happens with your belongings. Don't let the state make those crucial decisions for you. Work with our experienced estate planning attorneys to make your plan for your family's security and your peace of mind.
Do you worry about what will happen to your loved ones after you are gone? The death of a family member can be one of the most difficult times for any person, and especially for close family members who are left to handle your affairs amidst the grieving process.
You can save your loved ones a great deal of time, stress, and money by directing who will receive your assets and when that should occur. By executing your last will and testament, you prevent your property from being subject to unusual laws that divide your property among groups of relatives that are not likely to be consistent with your wishes and which might complicate and drive conflict into the management of your final affairs.
When you die without a will, the local probate court will appoint an administrator, who is obligated to distribute your assets according to North Carolina's intestacy laws. At that time, what you may have desired for your estate property is not taken into account.
Your assets may be sold to satisfy any remaining debts you had during your lifetime. Your home may be split between immediate family members who are estranged from one another. Your dependents may be placed in the care of a court-appointed guardian. Your pets will be handled as property of your estate. Your sentimental items may be passed down to immediate family members who you would not have chosen yourself.
Although you may have voiced your wishes for the distribution of your property to your immediate family, there is no guarantee that those wishes will be honored without outlining them in a last will and testament. Even if your loved ones want to object, they may quickly lose the right to do so or may have no rights at all.
One client came to our firm as a young man early in his career. He was married and his wife had recently given birth to their second child. The client wanted to ensure that his small children and wife would be okay if something happened to him. We helped the couple understand their options and prepare a will for their peace of mind. Even though they were young, they understood the importance of estate planning for the future safety and security of their growing family.
Ten years later, his wife returned to our office and informed us that her husband had passed away unexpectedly. We assisted her by outlining the next steps for handling his affairs and, because of his planning, his wife and their children continued to stay in their home. Despite the immense grief they felt, the overall changes to their individual lives were as limited as possible. You, too, can secure a stable future for your loved ones by making your will today.
We understand the need to protect and care for your family. Our belief in preserving the family is one of many reasons that we desire to help you plan for the future of your loved ones.
Do you have a unique or complicated family dynamic? Having a valid last will and testament significantly reduces the chance that your relatives will have disputes over handling your property.
Are you a parent with minor children or a child with specific needs? In your will, you can name an individual who you would like to provide care for your children if/when you are no longer able.
Do you have pets? You can outline what you would like to happen to your furry friends when you pass away and even set funds aside for their care.
Our experienced estate planning attorneys can help you consider all aspects of your unique life and family circumstances and determine how to preserve the things that matter to you. We understand that the prospect of making a will can be daunting, but we are here to simplify and guide you through the process.
Securing a safe and stable future for your loved ones after your passing does not just end at executing a last will and testament. It is also equally important to make sure that if you do have a will, that you are reviewing and updating your wishes approximately every three to five years to make sure the document reflects your most recent circumstances.
Consider one story of a client who executed her will with our firm two years before a divorce. At the time of her passing, she was remarried, but her last will and testament did not reflect this. Her spouse had to file various complicated spousal elections in Court in order to receive anything from the estate.
Even when the battle turns out in your favor, it can be expensive and stressful, and it can take a long time. From new births to new marriages, we understand that circumstances can change drastically in a short time frame. Let us help you take responsibility for your legacy and loved ones through these inevitable ebbs and flows of life.
Get Started Making Your Will Today
At Hopler, Wilms, & Hanna, PLLC, we work with individuals and families to plan appropriately for estates of all sizes. It's easy to get started. Just contact our firm and one of our experienced estate planning attorneys will meet with you for a virtual or in-person consultation to discuss your specific circumstances and end-of-life wishes.
We will tailor your document to reflect your needs and help you understand what your family and loved ones can expect when the time comes. Once we are familiar with your needs and wishes, you can leave the drafting up to us. Once you're ready to sign, we help you execute the documents and send you on your way with resources to help guide you through the documents and the end-of-life process.
Our budget level pricing ensures that you can take the step to secure your family's future today, regardless of how simple or complex your needs are.
What's stopping you from providing your loved ones with a bright future?
Don't you think you deserve peace of mind amidst life's unexpected twists and turns?
It is possible to secure a legacy for yourself and ensure a future for your family. Contact us today and find out how we can make the process of executing a last will and testament simple, quick, and budget-friendly.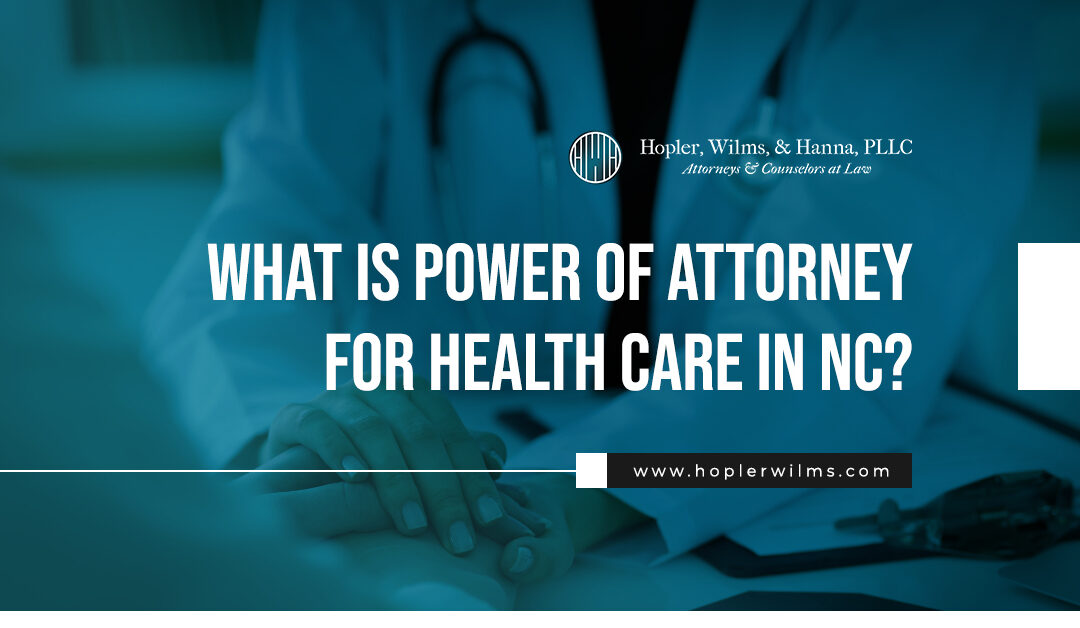 Life is full of uncertainties, and while we can't predict the future, we can certainly prepare for it. In North Carolina, establishing a Power of Attorney for Health Care is one of the most important preparations you can make for your well-being. This legal document empowers someone you trust to make medical decisions for you during periods when you cannot make or communicate them yourself. See why a Health Care Power of Attorney is not just a good idea but a necessity for anyone concerned about maintaining control over their medical treatment.
Get the legal help you need today!