EMPOWERING
OPPORTUNITY
& LEGACY
Leverage our experience for your Estate Planning, Probate, Business, and Employment Law needs. We are conveniently located in Durham, NC.
Our attorneys provide legal representation all over the State of North Carolina in these practice areas.
Litigation Legal Services

we provide exceptional legal representation
Whether you need help with the drafting of a Will, need help with probating your loved one's estate, need help with a business legal issue, or need help contesting an unemployment decision, our attorneys walk you through the steps required to handle your case and work with you as a partner until the completion of our representation.
It is our goal to give you as much information as you need to help you in your decision about whether you need an attorney and whether our North Carolina licensed attorneys are the right choice for you. Thank you for taking the time to consider us for your legal needs.
Contact Our Law Firm or Call us at (919) 244-2019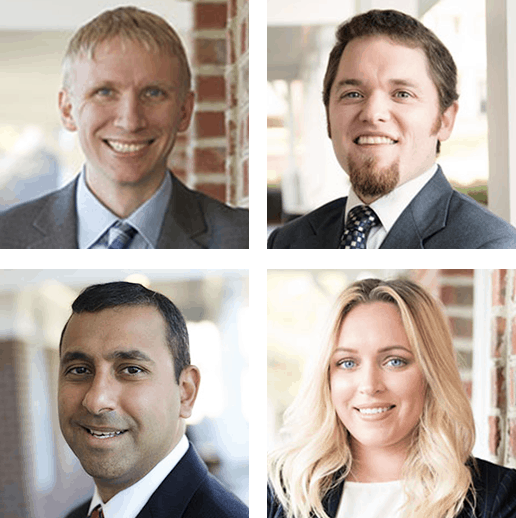 Why Choose Hopler, Wilms, & Hanna PLLC to represent your interests?
It is our policy to treat people with respect and to be generous with our time. You are not a number or a billable hour to us. You are a person first and foremost with real legal issues that affect your life, and as North Carolina licensed attorneys, we treat you like that from the outset of any legal representation to the very end.
See what our clients are saying
"I hired Hopler, Wilms, and Hanna right before my Dads death. I knew absolutely nothing about the law part of people living or peoples death. Chris Wilms took me through the entire process of what legality had to be done while my Dad was living and what to do after my Dad died. It was really hard for me going through this process and Chris and his staff were so calming, so sweet, so smart on what had to be done and how to do it. Every time i went into the office, I was treated with such VIP treatment and so well taken of. Always felt like I was in good hands and always felt like i could trust everyone. Thanks so much to all of you who helped me! To: Chris, Katherine, Amy, and Veronica, I appreciate you more than you will ever know and will continue to send clients you way! you are the best!"
Amy Pollard Walker
As North Carolina Attorneys, we serve people and businesses all over the State of North Carolina with assistance on a variety of legal issues.
Durham
(919) 244-2019
2216 S. Miami Blvd., Suite 101 Durham, North Carolina 27703
Sanford
(919) 244-2019
1680 S Horner Blvd. Suite A Sanford, North Carolina 27330
Durham
(919) 244-2019
2216 S. Miami Blvd., Suite 101
Durham, North Carolina 27703
Sanford
(919) 244-2019
1680 S Horner Blvd. Suite A
Sanford, North Carolina 27330
We Are Grateful for The Recognition of Our Service to You