Before hiring a new employee, employers often seek to perform background checks on considered applicants to assess the honesty, criminal background, credit history, military service, school records, and other related matters of interest.
The type of job being applied for will normally determine the need for a background check. Although not all employers actually perform background checks, it is important for all employers to be familiar with the process if a background check is needed or sought. When performing a pre-employment background check, the following should be considered:
Credit Reports: The Fair Credit Reporting Act provides that all businesses must obtain an applicant's written consent before seeking his or her credit report from one of the "big three" credit reporting agencies: Experian, TransUnion, and Equifax. If an applicant is deemed unfit due to their credit report, notice must be given to the applicant that explains why the employer has chosen not to hire them and a copy of the credit report must be provided. Employers must also provide information on the applicant's right to dispute the report and give the name, address, and phone number of the company that supplied the credit report.
Criminal Records: If an employer is wondering about someone's criminal background, a lot of information can be found through a simple Google search or online public records search. However, for more in-depth record checks, state-specific laws apply. In North Carolina, if a criminal record has been expunged, employers are prohibited from asking applicants about the expunged criminal history. North Carolina state licensing boards may consider criminal records in approving or denying licensure, but if the board denies a license based on criminal records, the board must consider things like the level and seriousness of the crime, when the crime occurred, and the relationship between the crime and the profession or occupation the applicant seeks to practice. It is not unusual for most employers to ask applicants, either on a job application or in an interview, about their criminal history.
Drug Testing: North Carolina law allows employers to require applicants and employees to take drug tests so long as state procedures are followed. Most commonly, employers use urine sampling to test for substance use. In any case, testing must be performed under reasonable and sanitary conditions and sent to an approved laboratory. Applicants have the right to retest a confirmed positive sample at their own expense at the same laboratory that confirmed the sample or at an approved laboratory of their choosing. Drug testing is normally required for federal employees and jobs that require the operation of heavy machinery, to name a few.
Lie Detector Tests: The Employee Polygraph Protection Act prohibits most private employers from utilizing, requiring, or requesting lie detector testing in the hiring process and/or during the course of employment. However, the Act permits applicants of security service firms and pharmaceutical manufacturers, distributors, and dispensers to administer polygraph tests.
Medical Records: The Americans with Disabilities Act (ADA) forbids employers from discriminating against applicants and employees based on physical or mental impairments. This is true for all aspects of employment, including hiring/firing, pay, promotion, and more. With this said, employers are not allowed to request an applicant's medical records as a condition of employment. However, employers can condition a job offer based on the answers to certain medical questions and the ability to perform certain job functions. Employers can also require the passing of a medical exam if all of the employees in the same job have to take the exam.
Bankruptcies: Although bankruptcies are public records and may even appear on an applicant's credit report, employers are not allowed to discriminate against applicants based on bankruptcy history. The Federal Bankruptcy Act prevents employers discriminating against job applicants and employees if they have a history of or are in the process of filing for bankruptcy.
Military Service: The Uniformed Services Employment and Reemployment Rights Act (USERRA) provides protections for initial hiring and adverse employment actions by employers if the employer is motivated solely or in part by the employee's military status. Employers may request military records from the US Government, including rank, salary, duty assignments, awards, and duty status without the service member's consent, but anything more than that generally requires the applicant's consent. If an applicant makes the employer aware of military duties either prior to or during employment, the employer can request that the applicant provide advance notice (either orally or in writing) of weekend drills or other leaves of absence.
Schooling/Education Records: The Family Educational Rights and Privacy Act (FERPA) forbids educational institutions from releasing a student's educational records, including but not limited to transcripts, recommendations, and financial information without the consent of the student. Educational records are considered confidential and should not be used in the hiring or firing processes. Employers should rely on the applicant to voluntarily disclose their educational history, including where they attended school and what, if any, degrees were earned.
Workers' Compensation Records: Even though workers' compensation records are public records in some states, employers are only allowed to use the information if the applicant's injury or injuries may interfere with the ability to performed required job duties. The Americans with Disabilities Act (ADA) prohibits state worker's compensation boards from releasing claims information as part of pre-employment background screenings. Employers can only review the worker's compensation information after a job offer is presented. In addition, employers are not allowed to request workers compensation records simply in order to have a policy of not hiring someone who has made a claim, since it is discriminatory to penalize a person who lawfully filed a valid claim.
Social Media: Although technically not a background check, public social media posts and profiles can be used by employers to examine potential employees' professionalism, communication skills, and beliefs, among other things. However, employers sometimes find themselves in court due to making employment decisions based on the information found online. Employers look at social media accounts for various reasons, mainly to make sure an applicant would be a good fit for the job and will not bring negativity to the employer's name. According to CareerBuilder, 70% of employers use social media to screen potential employees. It is completely legal for employers to do so, however, employers should not ask applicants for login info or credentials. Not only is this an invasion of privacy, but it is viewed as a red flag and may cause applicants to withdraw their applications.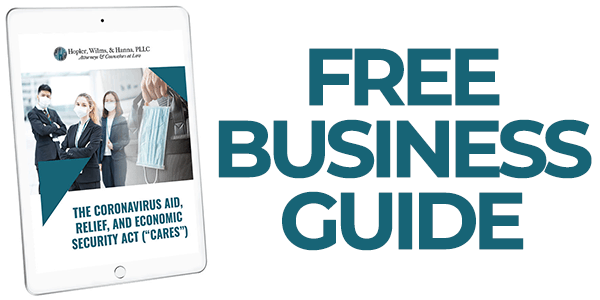 When conducting pre-employment background checks, employers should always, first and foremost, make sure they are abiding by state and federal law and avoiding unlawful discrimination. If unsure of the law, it is always recommended to contact a business or employment attorney to make sure that all laws are followed.
The process of hiring a new employee can be challenging, and the last thing any employer wants is to subsequently face a discrimination claim in court. The best advice is not to over-complicate the situation by doing more research on an applicant than is absolutely necessary for the line of work and to always use common sense when making conducting interviews and making new hires.
If you are in the process of hiring a new employee or will be adding new employees in the near future, and you would like to discuss your options for pre-employment screening, the attorneys at Hopler, Wilms, & Hanna, PLLC can assist.