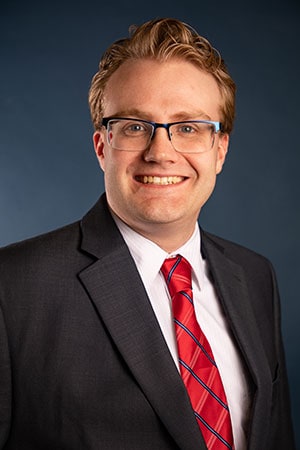 Clayton Jipping
Attorney & Counselor at Law
Clayton Jipping earned his undergraduate degree in Philosophy from the University of Memphis before graduating Magna Cum Laude from Thomas M. Cooley Law School in Grand Rapids, Michigan. While at Cooley, Clayton represented the school on multiple national competition teams, served as President of the Mock Trial organization, and was a teacher's assistant in over a dozen courses. Clayton was also a volunteer with Cooley's Non-Profit Incorporation Project, assisting charities in obtaining 501(c)(3) status, and the Hillman Advocacy Program, a series of workshops and seminars designed to improve the quality of practicing trial attorneys.
Clayton started into the legal profession as an intern clerk working under Judge Robert Holmes Bell for Federal District Court of the Western District of Michigan, drafting opinions for both the District Court and the United States Court of Appeals for the Sixth Circuit.
In 2014, Clayton founded Edward Allen Law, a full-service law firm aimed at providing cradle-to-grave legal services for small businesses and their owners. Though the firm demanded a wide legal knowledge across numerous practice areas, Clayton found his passion and skills were best utilized in the courtroom.
Clayton now joins Hopler, Wilms, & Hanna focusing on Business Litigation, Business Law, and resolving business disputes. He comes to our firm experienced in representing business clients in many forums, from the courtroom, to mediations and arbitrations, to the administrative courts of governmental regulatory bodies, and everything in between.
Clayton lives in Greensboro with his daughter and his wife, Ariel. He spends much of his time with his family and their oversized rescue dog, Charles. In the fall, he can be found all over the region on the field as a referee for youth and high school football.